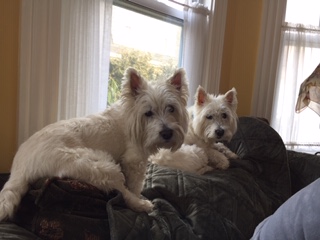 Dog Description
NAWR is look for a forever home for two deserving senior Westies. Could that be you?
Oscar (12/13) and Ellie (13/14) are a very sweet bonded pair who spent their lives together but unfortunately had to be moved to foster care when their owner could no longer care for them. Both weigh about 15-17lbs, are very well behaved, know their basic commands, travel well in the car and love walking together. They are house broken but also know to use a pee pad if an emergency. Both are quite healthy.
Oscar is a bit shy but a very relaxed guy who loves his big round bed, is a bit nervous, should be approached very gently and needs a quiet home. He loves animal planet and cannot be trusted with the show! He loves searching for any animal on the show! It's very funny to watch. His skin has improved through a raw food diet.
Ellie is an inquisitive older lady. She has limited sight due to cataracts but she is very interested in her surroundings, likes exploring and loves all sorts of food. She needs a bit of help with outside stairs so the less the better.
Both sleep downstairs since they cannot manage an inside staircase.
They would do well in a child-free and cat free household with the run of the house. They enjoy their Westie brother but would be best to be the only dogs if possible. A fenced yard is preferred since Oscar likes to investigate and being so small, can easily slip out of small spaces. Ellie follows him around and they loved to sit close and keep an eye on each other.
Both are sweet loving dogs!
If you are interested in adopting Oscar and Ellie together, please email Karen at ksautter@gmail.com and fill our our adoption application. NAWR does not split up bonded pairs.