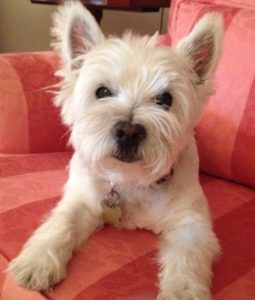 The Sprite Fund was established to support the needs of North Atlantic Westie Rescue's long-term and hospice foster dogs. Donations to the Sprite Fund are used to maintain the highest quality of life possible for North Atlantic Westie Rescue's most vulnerable foster dogs: elderly dogs, dogs with chronic illnesses, dogs with behavioral problems making them unadoptable, and dogs with terminal illnesses. All NAWR's long-term and hospice dogs live with NAWR volunteers permanently as beneficiaries of the Sprite program.
North Atlantic Westie Rescue is honored to establish this fund in memory of Sprite, a Westie loved by NAWR volunteer Christina Donnelly and her family. In starting this fund, Sprite's family hopes to soften the sadness of her passing.  Sprite was a beautiful soul and was fortunate to be treasured her entire life.  All dogs deserve the same and, via the Sprite Fund, we hope to help as many dogs in need as possible.
The Sprite Fund is initially being funded with a challenge match.  This means that Sprite's family will match every dollar donated up to $5,000.  Let's raise the roof and get to $5,000 in donations! – total of $10,000 for our most special dogs. Go to our donation page, check the box next to I would like to designate this donation to a specific fund and select "The Sprite Fund."
With your donation, you will be helping dogs like:
Einstein, a Westie with Granulomatous meningoencephalomyelitis. Given a few months to live, Einstein lived a whopping two years in NAWR's foster program thanks to the great care and generosity of our volunteers. (Einstein passed away in 2016.)
Chewie, a Westie mix with a complex seizure history and abuse background. Chewie was in rough shape when he arrived in rescue, but with TLC and excellent medical care, Chewie is now stable and has the support he needs when he has a bad seizure.
George Henry, an elderly Westie with diabetes and behavioral problems. George Henry was surrendered because his wonderful mom became blind and could not give George Henry his daily shots. George is a fesity Westie with some aggressive behaviors, but he is receiving the behavioral support he needs as well as life-saving medical care to ensure he has the best quality of life he could have.
Please help North Atlantic Westie Rescue continue its work to save dogs that others consider "lost causes." Donate to the Sprite Fund today!
"Saving one Westie will not change the world, but for that one Westie the world with change forever."