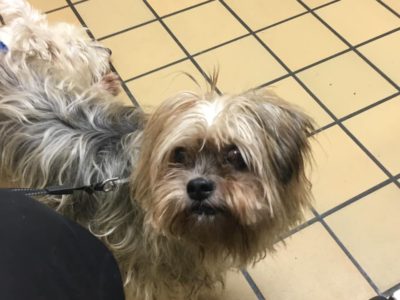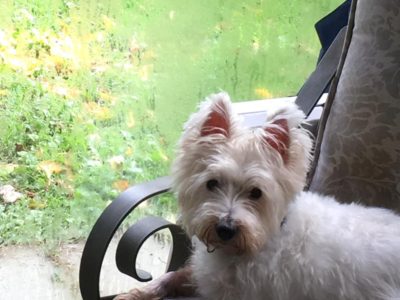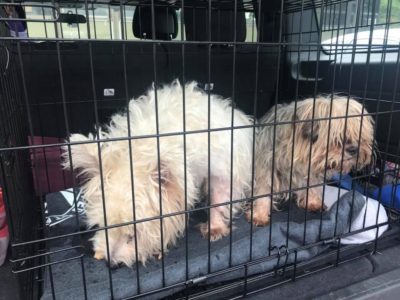 Dog Description
Hello, we are Mookie and Melvin. We are 10-11 year old bonded brothers, and we love each other very much. Melvin is a Snorkie and he is completely blind, and Mookie is his guide dog. We are taking applications for our forever home. Could you be our new mom or dad?
Older children ok | Dogs ok | No cats | Must be adopted as a pair
About Mookie and Melvin
Mookie and Melvin are a bonded pair who have lived together their whole lives. Melvin is a Snorkie and is completely blind. He requires support from Mookie (the Westie) to be at his best, and both love each other very much.  We will NOT separate them, so don't even ask. We do not break up bonded pairs EVER.
Mookie and Melvin are completely housebroken and will bark when they need to go outside.  They cannot be off leash and must be leashed when not in a fenced in secured area. While eating, Mookie has to be watched because he will eat Melvin's food.  Melvin grazes his food and can leave his food unattended.
Here's what we know about each the boys individually:
Mookie: This solid Westie male weighs about 26 pounds, but he is not overweight. Mookie is a total love bug. There is not an aggressive bone in his body. Mookie is very happy to interact with people he meets as well as other dogs. He met several people and dogs at the vet's office and did very well! Mookie is curious and playful. He does not play a lot with toys: he will show initial interest but loses interest quickly.  Mookie is protective of Melvin. He is very easy to bath although he does not like the sound of the dryer.  He does well being groomed apart from being a little anxious about getting his nails clipped.  Mookie chases squirrels and does not acknowledge you calling him back when he is chasing them: typical Westie!  Because of this, Mookie must be leashed at all times when not in the home or a secured fenced in area. He does not bark a lot apart from barking appropriately at strange noises. He loves to be brushed.
Melvin: Melvin is completely blind due to something that happened to him when he was just one years old. It is not repairable with surgery. As such, Melvin startles easily (he doesn't bite, just startles).  He is a total love like his brother and will lick you constantly! He loves to jump in your lap.  Like his brother, he also loves to be brushed. Because he is blind, Melvin can never get outside without a leash.  He will just keep walking until he bumps in to something.  Melvin does tend to walk in circles, widening the circle as he goes.  He also tries to stay close to Mookie.  Melvin loves people and he gets along great with other dogs.  He gets nervous being washed but allows it with no problem. For grooming, Melvin will need someone who understands he is afraid of driers owing to his disability. Even though he is blind, Melvin has no problems finding his food and water and his dog bed.  He loves to play with toys.  It does not take him long to get the "lay of the land."
Mookie's and Melvin's Medical Needs
Both Mookie and Melvin are healthy seniors. Their bloodwork was normal, and they are free of tickborne illnesses. They are both heartworm negative. Mookie and Melvin are up-to-date on all their vaccinations, including rabies, distemper, and kennel cough.
Melvin has dry eye and requires daily, inexpensive gel eye drops that you can purchase at any pharmacy.  They both will need dental care in the future, as they are both seniors.  Melvin's medical records indicate that both of his eyes "popped" out when he was one year old due to injury—this "ocular proptosis" is what caused the blindness. Our veterinarian told us it is not reversible, but Melvin is not in pain. Their nails are quite long and will need to be cut down periodically to shrink the quick.
Ideal Home
Mookie and Melvin would thrive under many different situations, but we would like to find them a home with older children or an active family used to having dogs OR a couple who want to spoil their fur children. They both deserve to be the center of someone's world. They are among the sweetest dogs we have ever had in rescue! A nice fenced in yard would be a plus for Melvin since he is blind and having security is important. NAWR expects all adopters will provide for Mookie's and Melvin's medical needs for their lifetimes, including vaccinations as required by state law. We do not adopt to individuals who are opposed to vaccinations.
How to Adopt Mookie and Melvin
If you are interested in adopting Mookie and Melvin together, please review our adoption guidelines to see if you are eligible to adopt. Then fill out our adoption application as completely as you can. Once submitted, our Adoption Team will review your application and assess whether you would be a good fit for the boys. We will only consider adoptive applicants who will provide a home for both Mookie and Melvin for their lifetimes. We will NOT separate them!
If you have any questions prior to application, please contact Karen Errichetti at ksautter@gmail.com.