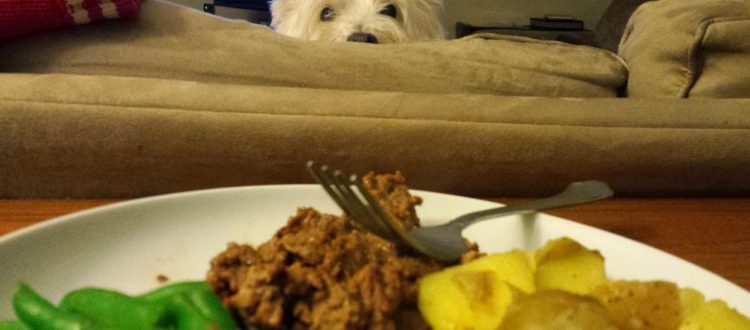 6 Great Brands of Dog Kibble
Next to religion and politics, selecting food for your dog can be one contentious decision. There are whole blogs and Facebook groups devoted to the should and should not's of feeding dogs. Going to the pet food store can also feel like going to the Hallmark store to pick out a birthday card. An hour later, you're still trying to decide what to buy!
North Atlantic Westie Rescue believes that every dog should have access to high-quality food that is appropriate for their needs. In addition to being safe and affordable, the food should be something your dog will actually eat! You can buy the most expensive food in the world, but if you're dog won't eat it, it's not the right food for your dog. If you're looking for suggestions of some brands to try, start with this list of the top 6 brands of dry food NAWR uses to feed its foster dogs.
1. Fromm 
We love almost every product the Fromm family makes. Fromm makes yummy tasting kibble with excellent quality meat, vegetables, grain, and fruit. In their grain-based line, we regularly use the Whitefish and Potato flavor.  Kibble is available in a broad range of proteins (e.g., whitefish, chicken, duck, beef, lamb, pork) with different kinds of starches like potato, sweet potato, lentils, and even applesauce. You cannot go wrong with anything from their Four Star line. The gold line is also great, but they use a mix of proteins. We try to stick with a single source of protein in our feeding protocols.
2. Wellness
Wellness is an affordable line with a broad range of recipes. You can find a Wellness product in every kibble size, protein, and grain type.  For this reason, we are a bit choosy about which Wellness recipes we use. The Simple ingredient line is great and has many protein varieties (e.g., duck, salmon, lamb, and turkey), and the Complete Health line just came out with grain-free varieties. We recommend you stay away from their turkey and chicken flavors since Westies tend to have sensitivities to these proteins.
This is our Executive Director's kibble line of choice, particularly for its Buffalo, Whitefish, and Chickpea flavor. This "Allergix" brand is excellent for dogs with severe irritable bowel syndrome or GI tract issues.  Health Extension bills itself as a holistic brand and has been around for about 30 years. They are developing a grain-free variety which even has the Westie image on the bag. How could you go wrong?
4. Earthborn
This holistic brand comes in many varieties and is particularly good in the fish department.  Their Coastal Catch and Ocean Fusion kibbles are quite tasty.  They make both grainful and grain-free varieties. Earthborn is lower in calorie than other kibbles, so you may have to feed your dogs more to ensure adequate caloric intake.
5. Canidae
Canidae is a 20 year old family-run company with a spectrum of high quality products. You can find part of its line in Petco, but its whole line is quite diverse. We recommend the grain-free, Pure formula in Bison, Wild Boar, or Duck. Our volunteer Kathryn Vullemier swears by the Pure Canidae line for all her dogs!
6. Evo
Evo makes our list because of its high-protein, low carbohydrate profile. We find this brand to be great for our younger dogs, and it is quite yummy (or so we gather from our dogs!). The proteins used are also quite exotic, which is important for dogs with GI problems. The Herring and Salmon dry food is quite good.
There are many great dry dog foods out there, and we hope our list helps you start your search for a healthy food that your dog will love.  If dry food isn't working, there are also raw and wet food diets. We will cover those in future articles. Happy shopping!