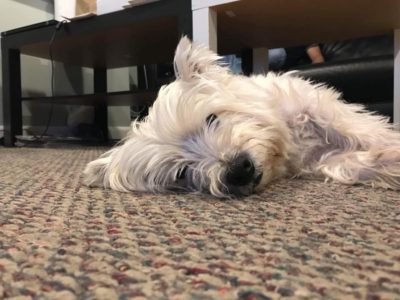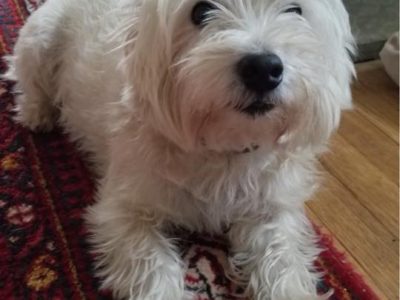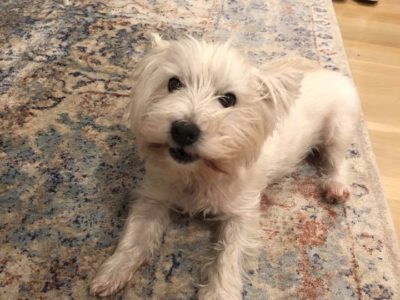 Dog Description
UPDATE: Wally has been adopted. Thank you!
Hi, my name is Wally! I am a 7-year old boy Westie with a lot of Westitude! I am taking applications for my forever home. Could you be my new mom or dad?
No children (under 13) | No other dogs (not negotiable) | Cats ok but not preferred
About Wally
Wally is lively, pernickety, and tenacious as all strong Westie boys are! Wally enjoys playing with toys on his own in his house or outside in the yard. He is young and loves to be active. Wally also loves to cuddle and have his belly rubbed. He is a great loyal companion. Wally prefers to be out and about in the house. He loves to roam around when his owners have gone out for part of the day. Wally is also house-trained, eats well, and has basic obedience skills. Like all Westies, he pretends not to hear you when he is called to come to his owner! Wally also does well on car rides and enjoys being patted and snuggled.
Wally's Behavioral Needs
Wally loves but does not understand how to behave around small children. He mistakes their playfulness for invasion of his space, particularly when it involves a toy or his face. He has bitten a toddler, and it is the assessment of NAWR that Wally cannot be around small children. This behavior is not modifiable. He has no issues being handled by adults, by the groomer, or the vet. He is a great dog!
Wally also guards his toys and will growl and sometimes bite other dogs if they approach him while he is playing with a toy or bone. He can run and play with other dogs in open spaces, but he gets annoyed when he feels his space is invaded. Wally tends to do better with larger dogs, but NAWR does not believe Wally will feel comfortable living in close quarters with another dog. He is perfectly fine around dogs when he is being walked or at a dog park. NAWR still recommends his new owner monitor him closely when he is socializing around dogs Wally doesn't know or those dogs he encounters in close quarters (e.g., the vet's waiting room or groomer).
Wally's Medical Needs
Wally is a very healthy adult, neutered Westie boy! He is prone to skin allergies and requires a special diet to make sure he isn't too itchy. Otherwise, Wally has no medical problems or history of any issues or injuries. He has been well cared for! Wally is up-to-date on all his vaccinations, including rabies, distemper, and kennel cough. He has no tickborne illnesses and is Heartworm negative. Wally does not take any medications.
Wally's Ideal Home
Wally would prefer a home where he is the only dog with a single owner or couple. His new owners do not have children living with them or small visitors that often come to the home. He also would prefer no cats. He tells us he wants lots of toys, lots of comfy places to snuggle, and regular walks outside. A fenced in yard would be a nice bonus, but it is not a deal breaker according to Wally! An active, retired couple would find Wally a perfect addition to their family!
NAWR expects all adopters will provide for Wally's medical needs, including vaccinations as required by state law, for his entire lifetime.
How to Adopt Wally
Because Wally was surrendered to ensure the safety of a small child, his human brother, his former family has requested an open adoption to allow direct communication between Wally's old family and his new one. NAWR will give preference to adoption applicants for Wally who accept the condition of open adoption.
If you are interested in adopting Wally, please review our adoption guidelines to see if you are eligible to adopt. Then fill out our adoption application as completely as you can. Once submitted, our Adoption Team will review your application and assess whether you would be a good fit for Wally. If you have any questions prior to application, please contact Karen Errichetti at ksautter@gmail.com.