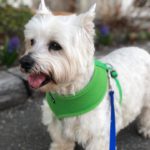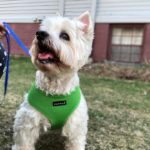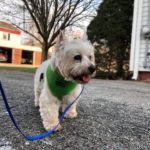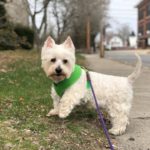 Dog Description
UPDATE: ADOPTED MAY 2018!
North Atlantic Westie Rescue is happy to announce that Sweeney is ready to find his forever home. Sweeney is a very sweet 13-year-old adult male Westie, but you'd never know that this active boy is a senior!
MEDICAL AND NUTRITIONAL NEEDS
Sweeney is a healthy, neutered, Westie boy who is up-to-date on all his vaccinations. Sweeney did have some skin issues in the past, but this was quickly remedied when his food was changed to a high-quality brand (Fromm). When Sweeney is hungry or if he wants to go out, he will tell you with a whimper. He enjoys his kibble, plus he loves vegetables like broccoli and cabbage. He does not show any signs of food aggression. His teeth are in marginal condition and need monitoring. North Atlantic Westie Rescue recommends all adopters follow their veterinarian's schedule for vaccinations including rabies, distemper/parvo/adenovirus, Lepto, and kennel cough, as well as administer monthly prevention for heartworm and tickborne diseases.
BEHAVIORAL NEEDS
Sweeney is well-behaved and walks well on a leash attached to a harness. For the best control of Sweeney, we don't recommend walking with a collar. He responds to being tugged in whatever direction you are heading. He does not pull and he moves fast; he's a Westie-on-the-go! He should never be off-leash and could easily escape if not properly restrained. Sweeney likes his people, and wherever you are in the house, he'll be ready to lie down at your feet or by your side and go to sleep. At night, he is happy to sleep on the floor, in a dog bed, or with you in your bed. Sweeney CANNOT be crated at all for any length of time.
Sweeney was recently groomed and did very well at the groomer. He is a very handsome boy and weighs approximately 24 pounds. He is not toy or food aggressive and there are no signs of resource guarding. He gets along with other dogs and backs away when corrected by a more alpha dog.
We've noticed that Sweeney has hearing issues and he may be partially deaf, so he does not always respond to his name. He does respond when his person is moving away or toward him and makes eye contact. He loves to be patted, but he does not like to be picked up. He should not be touched when asleep or at rest in a place of sanctuary. For example, he should not be picked up and moved from couch to chair or he may try to nip at you.
IDEAL ADOPTER
Experienced dog owners will do well with Sweeney, especially those who have rescued and understand the needs of a senior dog. Only homes without cats or children will be considered. Other dogs in the home (no more than two) are fine, as long as they are not larger than Sweeney. Sweeney should be in a home where his people will be with him a lot, as he does not like to be left alone. His owner should be able to walk/exercise Sweeney on a regular basis.
HOW TO ADOPT
If you are interested in adopting Sweeney, please submit an application.