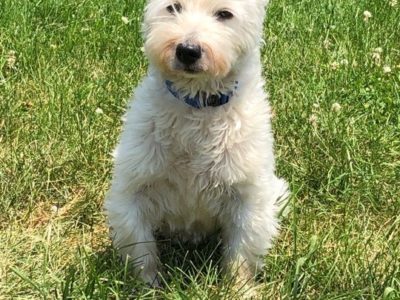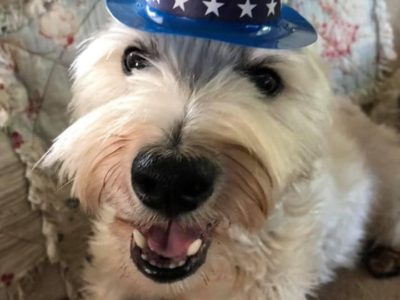 Dog Description
Hi, my name is Sammy! I am a 7-year old Westie boy with diabetes, and I am taking applications for my forever home. Could you be my new mom or dad?
No children (under 10) | Dogs preferred | No cats preferred
Meet Sammy! Sammy is a neutered 7-year old male diabetic Westie. He takes two insulin shots per day 12 hours apart and is on a special prescribed food to keep him healthy and happy.  Sammy is an absolute love bug & lap dog.  He loves the other dogs in his foster home and is very curious about the kittens also being fostered in the same home but doesn't seem interested in them.  He is crate trained, loves going for walks, playing in the fenced yard with the other dogs and also loves playing with toys.  In his foster mom's opinion, he is pretty much a perfect boy, but well-he's a Westie.
Sammy diabetes was diagnosed about 2 months ago. Apart from his diabetes, which is controlled, Sammy is a very healthy adult, neutered Westie boy! Sammy has no other medical problems or history of any issues or injuries. He has been well cared for and was recently groomed. Sammy is up-to-date on all his vaccinations, including rabies, distemper, and kennel cough. He has no tickborne illnesses and is Heartworm negative.
Sammy is such a good natured dog, he would do well in almost any home. We think he would prefer a home with other dogs of similar size. He currently lives with several other terriers and small dogs, and he has a ball with them! Sammy would love to have some green space where he can run around and play. Because of his diabetes, he would prefer a family who has diabetes experience and would be committed to his medical needs for life.
NAWR expects all adopters will provide for Sammy's medical needs, including vaccinations as required by state law, for his entire lifetime.
If you are interested in adopting Sammy, please review our adoption guidelines to see if you are eligible to adopt. Then fill out our adoption application as completely as you can. Once submitted, uur Adoption Team will review your application and assess whether you would be a good fit for Sammy. If you have any questions prior to application, please contact Karen Errichetti at ksautter@gmail.com.