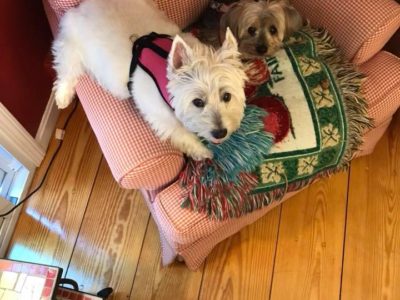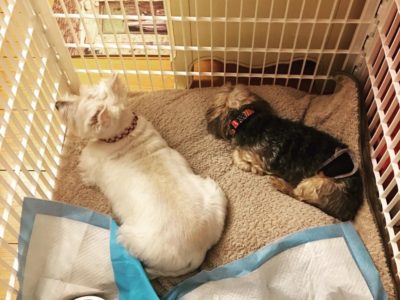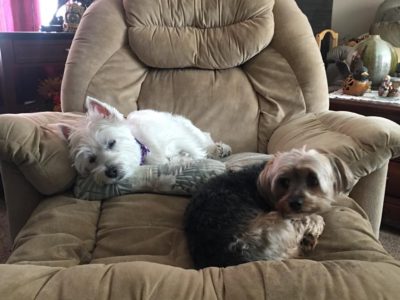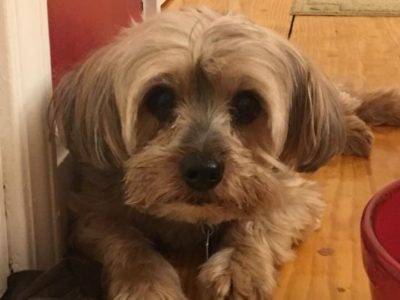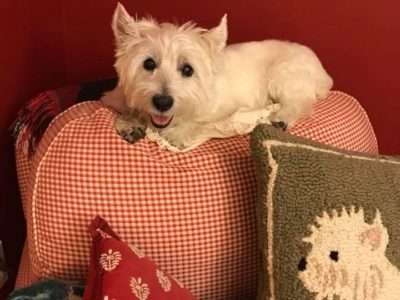 Dog Description
North Atlantic Westie Rescue is happy to announce that bonded pair Samantha (a Westie girl) and Bandit (a Yorkie male) were adopted in April 2018! We are so happy they are together and living the life with their new family!
Samantha and Bandit came to NAWR when their owner was placed in a long-term care facility. They have lived together their whole lives and love each other very much. Could you be the forever home that Samantha and Bandit need?
MEDICAL NEEDS
Samantha and Bandit are in good health for seniors and are not on medication currently. Both Samantha and Bandit are up-to-date on all their vaccinations. They are both clear of heartworm, Lyme, and other tickborne diseases. North Atlantic Westie Rescue recommends all adopters follow their veterinarian's schedule for vaccinations including rabies, distemper/parvo/adenovirus, Lepto, and kennel cough.  Both Samantha and Bandit will require monthly prevention for heartworm and tickborne diseases and regular veterinary care due to their both being senior dogs.
BEHAVIORAL NEEDS
Samantha is a sweet, gentle westie with a curious personality. Although she is a senior dog she is in excellent health and enjoys walks and exploring outside.  She has an exceptional disposition for a westie female and is friendly to both dog and human strangers. Her bonded partner, Bandit, is a senior Yorkshire terrier who seeks direction and security from his sister.  He was extremely shy and frightened when he arrived but has since made dramatic steps to becoming a balanced and confident little terrier.  He is a fear nipper but has improved quickly and with positive reinforcement and handling. Bandit will require a gentle and patient hand. He is not aggressive or possessive of toys or food. He is very close to his sister and she watches over him like a mommy.
Samantha and Bandit will need to be secured in a home that spends quality time with them and provides consistent affection, including playing toys and outdoor walks (not long but lots of sniffing). Quiet and gentle voices and lots of patience are required for Bandit to become confident and secure with his surroundings.   A fenced yard is preferred. Another dog may be a possibility if the personality complements the pair.  Consistent grooming and high quality food to help maintain there well being. Most importantly, the security and affection of being a forever bonded pair with a forever loving family. These dogs are a VERY special bonded pair who deserve the love they bring to every person they meet.
IDEAL ADOPTER
Samantha's ideal home has a fenced in yard and no other or just 1-2 other dogs. Due to Bandit's fear nipping behavior, we will not adopt this pair to a family with live-in or visiting children. Samantha and Bandit need a family who understands the needs of senior dogs and will be able to provide for them financially as they may require more medical care than younger dogs. No cats please!
North Atlantic Westie Rescue recommends all dogs be supervised in fenced in areas due to risk of dog theft and the recent increase in fatal coyote attacks. We do not adopt to families with electric fences.
HOW TO ADOPT
If you are interested in adopting Samantha and Bandit as a bonded pair for life, please submit an application. Questions prior to application submission may be directed to our Director, Karen Errichetti at ksautter@gmail.com.