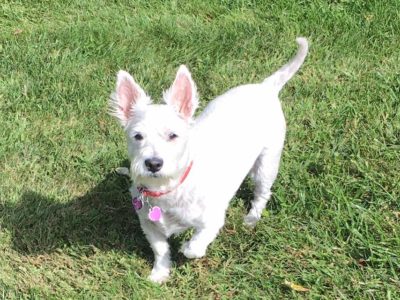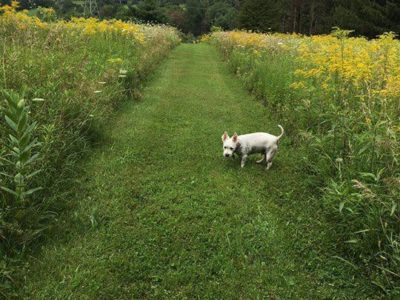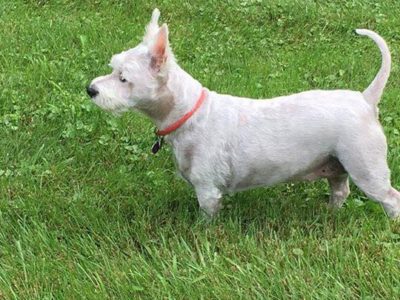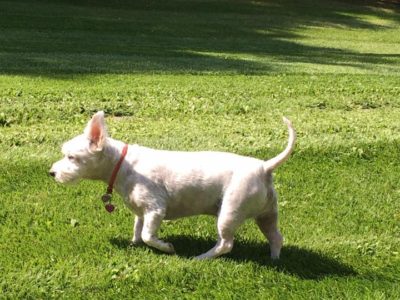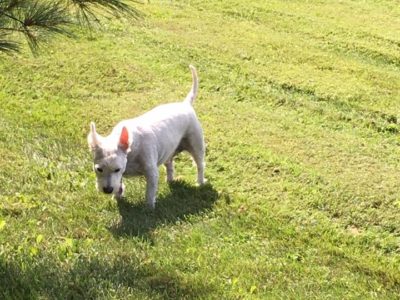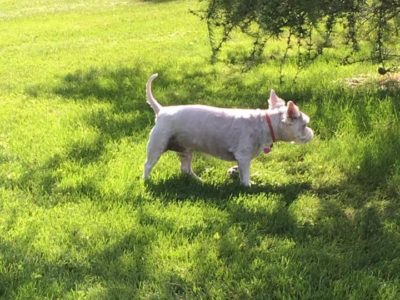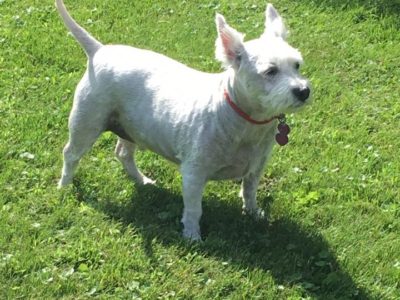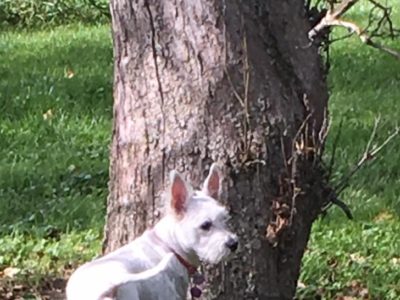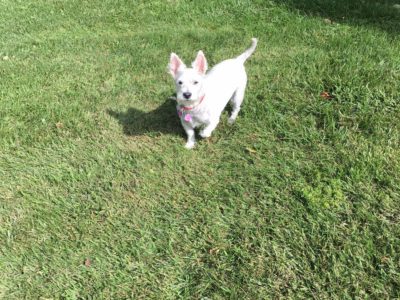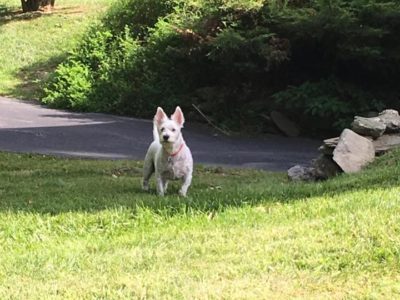 Dog Description
North Atlantic Westie Rescue is searching for the forever home of Quinn, an adult male Westie. Quinn is about 8 years old and came to us in search of a home where he can be the best dog he can be. Could you be Quinn's mom or dad?
MEDICAL NEEDS
Quinn is a healthy, neutered Westie boy who is up-to-date on all his vaccinations. He is clear of heartworm, Lyme, and other tickborne diseases. His bloodwork is excellent for a dog his age. Quinn is recovering from an ear infection. We believe he has had recurrent ear infections throughout his life and he will need regular veterinary care to address his ear health. North Atlantic Westie Rescue recommends all adopters follow their veterinarian's schedule for vaccinations including rabies, distemper/parvo/adenovirus, Lepto, and kennel couch.  Quinn will require monthly prevention for heartworm and tickborne diseases. He is not on any regular medication apart from his ear treatments. Quinn must be muzzled when his ear medication is given.
Quinn was overweight when he was surrendered to rescue. We moved him to a diet of Taste of the Wild kibble, and he really likes it. Quinn will need lots of exercise in his new home to ensure he continues losing weight. He really enjoys the outdoors!
BEHAVIORAL NEEDS
Quinn has special behavioral needs. He has a tendency to be vocal when he is upset about something, and his vocalizations can sound a little scary or intimidating if you are not used to how it sounds. For example, Quinn does growl and snarl, but he has not bitten anyone in foster care.  He LOVES to rough play, and is gentle while doing it. He prefers patting that is continuous, but we do not recommend Quinn being touched without movement of one's hand. He doesn't appear to like someone's hand resting on him.
Quinn is very happy to sit at your feet or lay next to you on the couch. He likes to feel near his people. Quinn does have separation anxiety. He always wants his people in his line of vision. His foster mom says Quinn "is so happy in the morning when we get up. He wags his tail, jumps around and just wants to be pet." He is very friendly with company, but due to Quinn being somewhat untrusting of new people, introductions must be completed and company instructed not to pet him. Otherwise, Quinn does fine with people coming into one's house..
Quinn is not food aggressive typically, but he will growl if you attempt to take treat away once given. His foster family has been able to remove his bowl when eating, but we do not recommend that his new owner do this until Quinn is comfortable in his forever home. Quinn cannot have squeak toys. He will tear it apart until he gets the squeaker out and tries ti eat it. Basically tears any toy apart unless it is a "hard" toy. He does not chew anything in the house. He can not have rawhide or hard jerky, as he all but swallows it whole.
Quinn sleeps on the floor in his foster parents' bedroom and stays on his blanket all night. He will wake you if he needs to go out. In foster care, he has had NO accidents in the house at all.
Quinn is absolutely non aggressive with other dogs, just amorous. His foster brother is another terrier that Quinn likes to hump! He does like to be the Alpha. Quinn does listen to his owners with typical Westitude. He will get down if you tell him and does sit and stay (not for long, but he will stay). He learns very quickly. He is great outside off leash, but we do not think he knows to fear cars. For this reason, Quinn needs to be leashed during walks.
Quinn must be muzzled to be brushed, bathed, and groomed.
IDEAL ADOPTER
Quinn's ideal home is quiet where he can be loved and appreciated for the "grumpypants" that he is. We envision an older couple or a single person, perhaps retired, without children as Quinn's adoptive home. Experienced dog owners will do well with Quinn, especially those who have rescued and understand the needs of a dog who needs time to develop trust of his owner. We will not adopt Quinn to a home with children or visiting children, as Quinn does not like them. Quinn is ok with other dogs, but he'd like to be an only dog. Quinn will thrive in a home where he can be active. His family will need to take regular walks or have access to a fenced in yard. North Atlantic Westie Rescue recommends all dogs be supervised in fenced in areas due to risk of dog theft. NO CATS PLEASE.
HOW TO ADOPT
If you are interested in adopting Quinn, please submit an application. Questions prior to application submission may be directed to our Director, Karen Errichetti at ksautter@gmail.com.