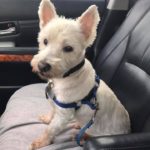 Dog Description
Hi, my name is Jayden! I am senior Westie boy with no medical problems, and I am taking applications for my forever home. Could you be my new mom or dad?
No children (under 10) | Dogs preferred | No cats 
Meet Jayden! Jayden is a neutered, 12-year old male Westie. He is a very happy, sociable dog who loves other dogs and people alike.  He especially loves dogs larger than himself, and we would love to find him a home with at least one other dog playmate. He likes to take walks and is leash-trained. Jayden is a very healthy boy for his age. He has no medical problems or history of any issues or injuries. He has been well cared for and was recently groomed. Jayden is up-to-date on all his vaccinations, including rabies, distemper, and kennel cough. He has no tickborne illnesses and is Heartworm negative. NAWR expects all adopters will provide for Jayden's medical and behavioral needs, including vaccinations as required by state law, for his entire lifetime.
If you are interested in adopting Jayden, please review our adoption guidelines to see if you are eligible to adopt. Then fill out our adoption application as completely as you can. Once submitted, our Adoption Team will review your application and assess whether you would be a good fit for Jayden. Be patient with our organization, as we are 100% volunteer and most of us have full-time jobs in addition to family and rescue responsibilities. It is not unusual to wait over a week to hear from us. Please review our adoption fees before submitting your application.
If you have any questions prior to application, please contact Kelley Lemos at klemosma@comcast.net.