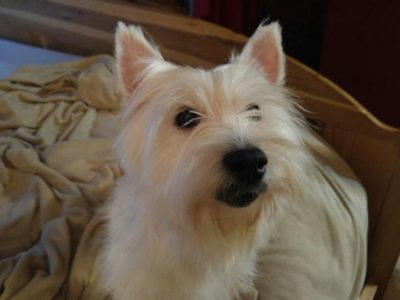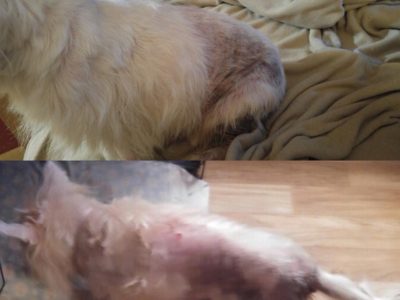 Dog Description
North Atlantic Westie Rescue is happy to welcome Heather, an 8-year old adult female Westie. She was transferred to the Scottish Terrier Club of Greater New York Rescue program by the NYC ACC in Brooklyn. NAWR is sponsoring Heather's foster care and placement. Could you be Heather's new mom or dad? NOTE: Heather will be placed no earlier than January 24 due to her needing to fully recover from surgery.
MEDICAL NEEDS
Heather is a spayed Westie girl recovering from medical neglect. She has a skin condition called Malassezia Dermatitis which is a yeast infection caused by untreated ear and skin conditions.  It is treatable, and Heather is responding well to treatment in foster care. Her new family will need to continue Heather's skin medication and medicated baths until she recovers. Due to the potential for recurrence, her new owners will have to keep up with her skin and ensure timely and appropriate grooming.
Heather has two bladder stones that are being removed surgically in early January. She does not have a urinary tract infection, but the stones are serious and require quarterly urinalysis tests for life. She will need to eat a special diet for life as well to prevent stone recurrence. She also has a mild heart murmur which is not life threatening.
Heather is up-to-date on all her vaccinations. She is clear of heartworm, Lyme, and other tickborne diseases. North Atlantic Westie Rescue recommends all adopters follow their veterinarian's schedule for vaccinations including rabies, distemper/parvo/adenovirus, Lepto, and kennel cough.  Heather will require monthly prevention for heartworm and tickborne diseases. We do not have prior medical history on Heather due to her shelter surrender being confidential. We do not think Heather has had regular medical care during her lifetime.
BEHAVIORAL NEEDS
Heather is one of the best behaved Westies we have ever encountered in our program! Despite having overcome medical neglect, she is sweet and has strong self identity. She's not a diva, but she is not afraid to put another dog in his or her place if she doesn't like their attention. Heather walks well on a leash and loves toys. She's a good eater, but due to her medical issues she sometimes hides in her crate when in pain. Once she is recovered medically, we imagine her activity level will increase as will her interest in play.
Heather gets along with other dogs and has a special bond with a Scottie named Barney in her foster home. She would be ok with children over but no cats please. She is used to being crated but would be happy to sleep on the bed with you or in a dog bed.
IDEAL ADOPTER
Heather's ideal owner understands how to address skin issues. While her skin has improved substantially, her new owner will need to stay on top of her skin health and be ok with regular grooming/baths.  Heather would do well living in a household with other dogs of any age, but no cats please. She would be ok with children over the age of 10. Heather would love to live with a single mom or dad (professional or retired) or live with a couple. She could easily live in the city or suburbs due to her sweet temperament. Want to dress her up in coats and dresses? That would be fine by Heather! She'd love to be a star on Instagram or Facebook!
North Atlantic Westie Rescue recommends all dogs be supervised in fenced in areas due to risk of dog theft and the recent increase in fatal coyote attacks. We do not adopt to families with electric fences.
HOW TO ADOPT
If you are interested in adopting Heather, please submit an application. Questions prior to application submission may be directed to our Director, Karen Errichetti at ksautter@gmail.com.