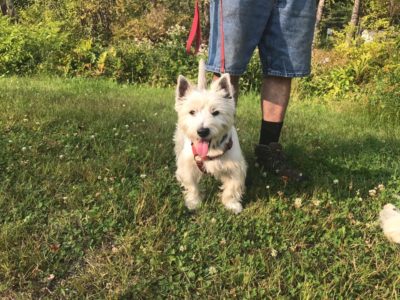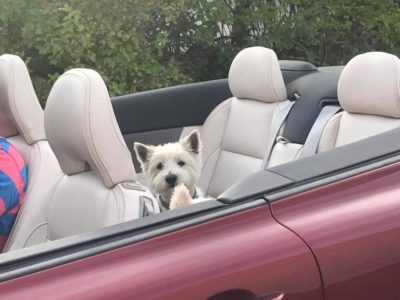 Dog Description
North Atlantic Westie Rescue is searching for the forever home of Harley, a 2 year old male Westie with a lot of spirit. Could you be Harley's mom or dad?
MEDICAL NEEDS
Harley is a healthy, neutered Westie boy who is up-to-date on all his vaccinations. He is clear of heartworm, Lyme, and other tickborne diseases. North Atlantic Westie Rescue recommends all adopters follow their veterinarian's schedule for vaccinations including rabies, distemper/parvo/adenovirus, Lepto, and kennel cough.  Harley will require monthly prevention for heartworm and tickborne diseases. He is not on any regular medication and has no history of injuries or surgeries.
BEHAVIORAL NEEDS
Harley has special behavioral needs. While he is a playful and good boy most of the time, he has a barking issue. In his foster home, he barks a lot when people come and go from his foster mom's office or walk by her office building. Harley can be reactionary when strangers or family members approach his pack leader. For example, he barks at his foster mom's adult son when he walks around the house. This is a protective instinct that needs attention from his new owner.
Harley understands correction and can be good when prompted.  However, he does nip at people when they come or leave or are carrying anything in his foster house. He does not guard or defend his food and toys. He is just a little bratty at times. Harley likes to play with other dogs and plays with toys by himself. He shows no aggression toward other dogs.
IDEAL ADOPTER
Harley's ideal home has no other dogs or 1-2 other dogs.  We think he'd like being an only dog best, and he would prefer not living in a busy place since barking is an issue. We will not adopt Harley to a home with children or visiting children, as he has a nipping issue that will take time to address. Harley does not like strangers so a home with a low level of foot traffic (or owners with the patience to manage traffic around Harley's needs) would be ideal. His family will need to take regular walks or have access to a fenced in yard. North Atlantic Westie Rescue recommends all dogs be supervised in fenced in areas due to risk of dog theft. NO CATS PLEASE.
HOW TO ADOPT
If you are interested in adopting Harley, please submit an application. Questions prior to application submission may be directed to our Director, Karen Errichetti at ksautter@gmail.com.