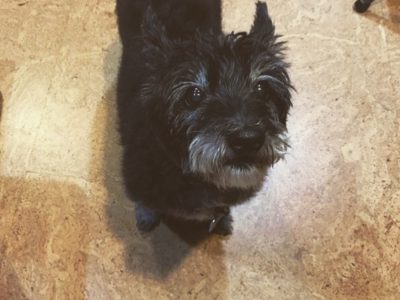 Dog Description
Hi, my name is Cassie! I am a 13-year old "little black dog" who is super sweet! I am taking applications for my forever home. Could you be my new mom or dad?
No children (under 10) | Other dogs ok | Cats ok but not preferred
About Cassie
Cassie is a small senior little black dog who is affectionate and happy. Cassie is one of the sweetest, most loving dogs we have ever encountered in our rescue program. She loves to sit in your lap.  Cassie will follow you around all day if she can.  She will sit up like a squirrel to have her belly rubbed or to look you in the face. She loves to cuddle and sleep with you in your bed.  She is a good eater and empties her bowl each meal time with a little reminder that it's there.  She has her own dog bed but she likes to sit on couches and beds. Despite being tiny and a senior, she can jump up onto your bed easily! She does well on a leash and interacts well with strangers after a quick introduction. She can be a shy little girl, but she warms up to new situations quickly. Cassie is not really interested in toys but her foster brother may be the reason she doesn't show interest.
Cassie does well with her foster brother dog and is not at all intimidated by his Westitude! We do not know how she would do with cats, as her foster home does not have cats. Cassie is not house-trained, as she is trained to go to the bathroom indoors on a piddle pad. She has peed and pooped outside when encouraged, and she does not have accidents in the house.  We believe she can learn to go to the bathroom outside with time and patience.
Cassie's Medical Needs
Cassie is healthy, spayed senior girl! Her new owner will need to do regular bloodwork to monitor her kidney function as her bloodwork shows normal aging that requires monitoring. Otherwise, Cassie has no medical problems or history of any issues or injuries. She has been well cared for! Cassie is up-to-date on all his vaccinations, including rabies, distemper, and kennel cough. She has no tickborne illnesses and is Heartworm negative. Cassie does not take any medications.
Cassie's Ideal Home
Cassie's ideal home is a family with older children or a retired single person or couple with no children. She really just wants a quiet home where she can be someone's baby. She is used to living her life exclusively indoors, but being able to take regular walks would help keep her healthy and live longer. We would prefer Cassie's new owner not leave her alone for several hours at a time, as she needs to be connected with her person or people. NAWR expects all adopters will provide for Cassie's medical needs, including vaccinations as required by state law, for his entire lifetime.
How to Adopt Cassie
If you are interested in adopting Cassie, please review our adoption guidelines to see if you are eligible to adopt. Then fill out our adoption application as completely as you can. Once submitted, our Adoption Team will review your application and assess whether you would be a good fit for Cassie. If you have any questions prior to application, please contact Karen Errichetti at ksautter@gmail.com.