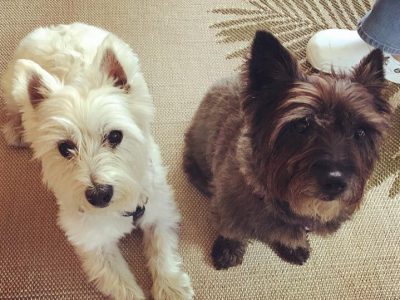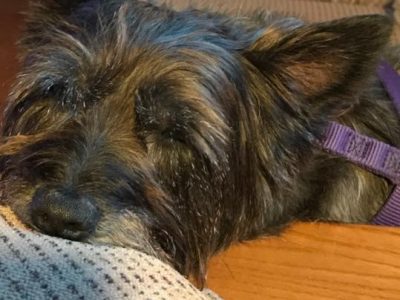 Dog Description
UPDATE: Bailey and Charlie have been adopted and live in a house by the water. Congrats you two!
Bailey (a female Cairn) and Charlie (a male Westie) are a bonded pair of senior dogs who came to our program from the best of owners. Due to unfortunate circumstances, the family made the heart wrenching decision to surrender these wonderful dogs to ensure they could live out their lives with the highest quality of life. We are honored the family chose us to place this pair of dogs in a forever home.
Bailey and Charlie are well socialized dogs with a strong bond. Bailey is the alpha of the two; in fact, Charlie cannot bear to be separated from her. When we took Bailey to the vet, Charlie cried the whole time at home (poor thing!). These two love to be outside and to take walks. In fact, their foster parents have taken them on their boat. They have even gone swimming in life vests and enjoyed every moment of it. They are total couch potatoes and love to take naps (especially together). We have learned they are crate trained, but they also like to have the run of their foster home. They are house-trained and have completed their medical evaluation. Both are in excellent health. Charlie has recurrent ear problems and needed treatment for an ear infection upon intake. He has completely recovered, but his ear health will be an issue to be closely watched by his new owners.